Academic studies can be a drag. And are therefore fabulous.
Here's a case in point: UBC Okanagan offers the Cultural Studies Program course Drag Pop Culture, taught by lecturer Cameron Crookston, editor of The Cultural Impact of RuPaul's Drag Race. From John Waters films and the 1995 movie To Wong Foo, Thanks for Everything, Julie Newmar to the widespread popularity of RuPaul's TV competition series, this class takes an in-depth look at the historical relationship between drag and popular culture, covering queer activism, theory, communities, and identities in the mix.
But that's not all. UBC boasts plenty of entrants into this fierce and fun field, as proven by the following sampling of students, faculty, and alumni. (After all, grad is an anagram of drag.)  
These performers, ranging from the emerging to the well-seasoned (and saucy), draw inspiration and experience from various countries, like China, New Zealand, South Korea, Ukraine, and, er, East Van.
While there are many others, we're spilling the tea about these drag queens, kings, things (yes, that's a term some use), performers, and artists who are out there — and spectacularly loud and proud. Get ready to scream "Wig!"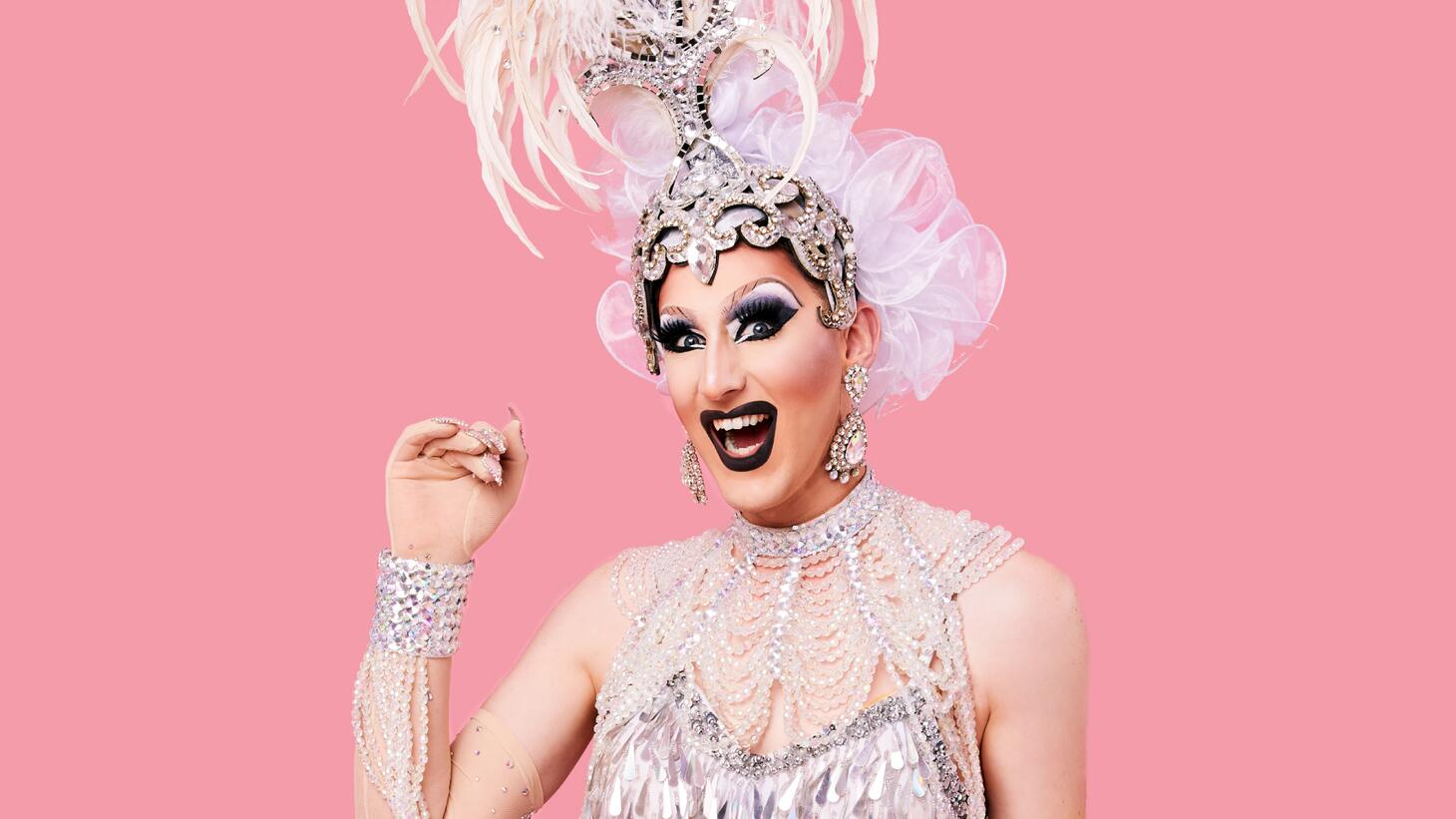 Anita Wigl'it
Seeing the stage version of the Australian musical Priscilla, Queen of the Desert inspired Nick Kennedy-Hall (MMus'14, he/him) from Auckland, New Zealand, to answer the call of the wig as Anita Wigl'it (she/her). While in Vancouver, Anita won Vancouver's Next Top Drag Superstar and was crowned Drag Entertainer of the Year in 2013. Then from 2018 to 2020, Anita served as a judge for two seasons of the New Zealand TV competition series House of Drag, in which contestants faced off in a series of "awkwardly fabulous" challenges.
In 2021, Anita added a Kiwi to the fruit salad of Season 1 on RuPaul's Drag Race Down Under, finishing in eighth place. On the show, Anita herself did drag — as Queen Elizabeth II, quipping, "Meghan called me the other day and said, 'Lizzie, what's the secret to a long life?', to which I said, 'Don't piss me off and wear a seat belt.'" Talk about wigging out.
Anita also formed a dynamic duo with fellow House of Drag judge Kita Mean (performed by Nick Nash), and the wiggly pair co-owns the Auckland drag restaurant Caluzzi Cabaret and co-hosts the monthly comedy event Drag Wars. As a trumpet player and singer (and putting that Master's degree in Music to good use), Anita also fronted Drag Orchestrated, which featured a 50-piece orchestra. Up next: she'll be taking her comedy show on a tour of New Zealand, is hoping to tour Canada in 2023, and has a concerto in the works — proving there's plenty going on underneath that big wig of hers.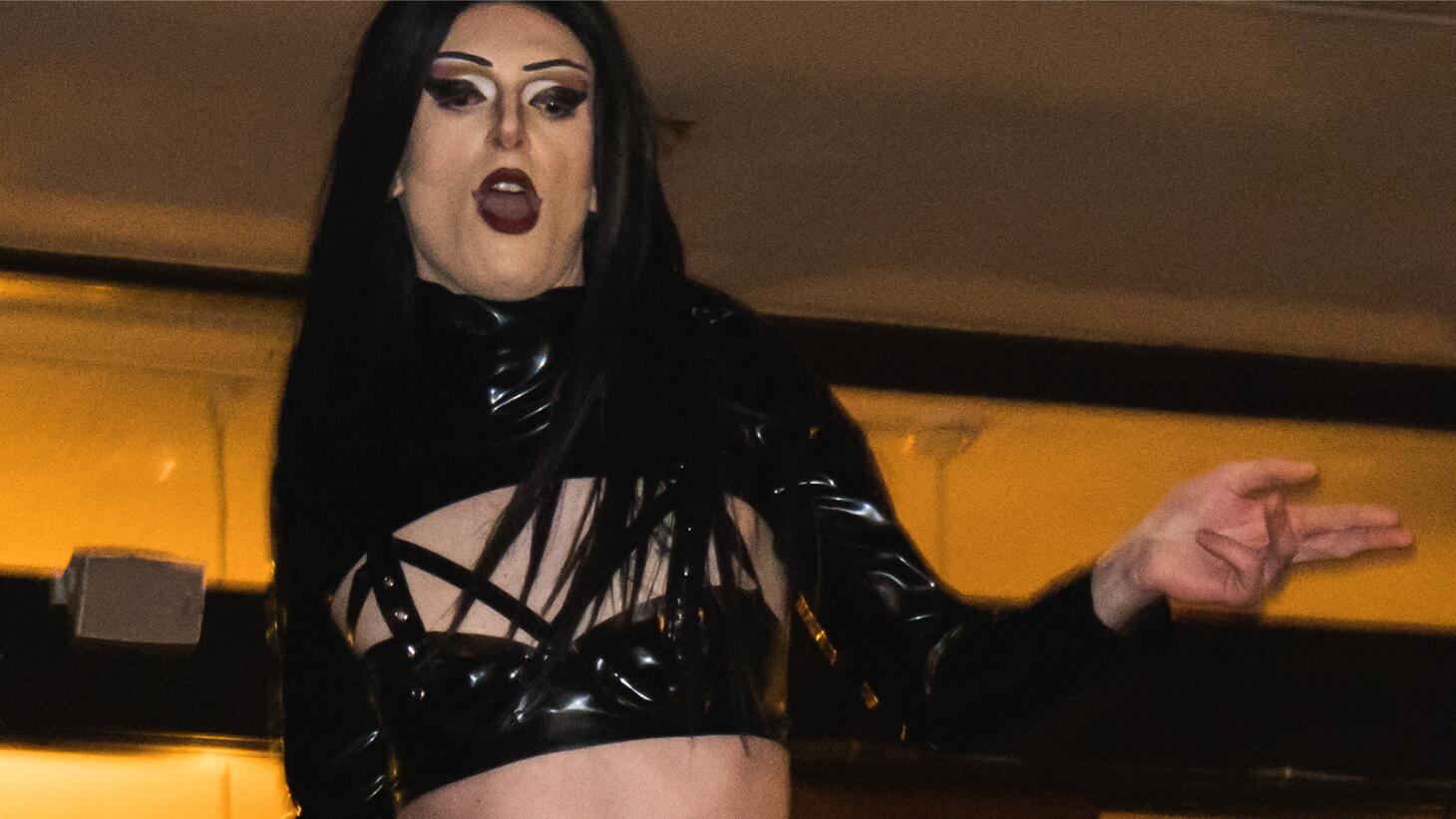 Exter
Facetiously known as "UBC's drag queen on call," Exter (she/they) is the creation of Liam Hart (BA'22, he/him) who graduated with a Bachelor's degree in Human Geography. Formerly known as Maddoria, Hart changed his drag name to Exter, inspired by an avant-garde designer and artist from Kyiv, Ukraine, in the early 1900s.
Hart initially got his debutante start by attending his high-school prom in drag — as a joke. Although beginning in jest, Hart founded and became the director of UBC Drag. The campus event, which had its first biweekly show at Koerner's Pub at UBC's Vancouver campus in November 2021, has become a showcase for university talent. Hart also helped to organize the digital version of the fourth annual UBC Pride from January to April 2021, which included dance, music, film, art, and research. He's particularly proud of organizing Queer LDOC: Fashionably Late, an outdoor last-day-of-class celebration at UBC in April featuring a DJ and an array of Vancouver's dragsters from Count Caligula von Cupid to Carrie Oki Doki.
His recent graduation notwithstanding, Hart is carrying on with UBC Drag, including preparing new programming and securing funding for the upcoming school year. After all, the show must absolutely drag on!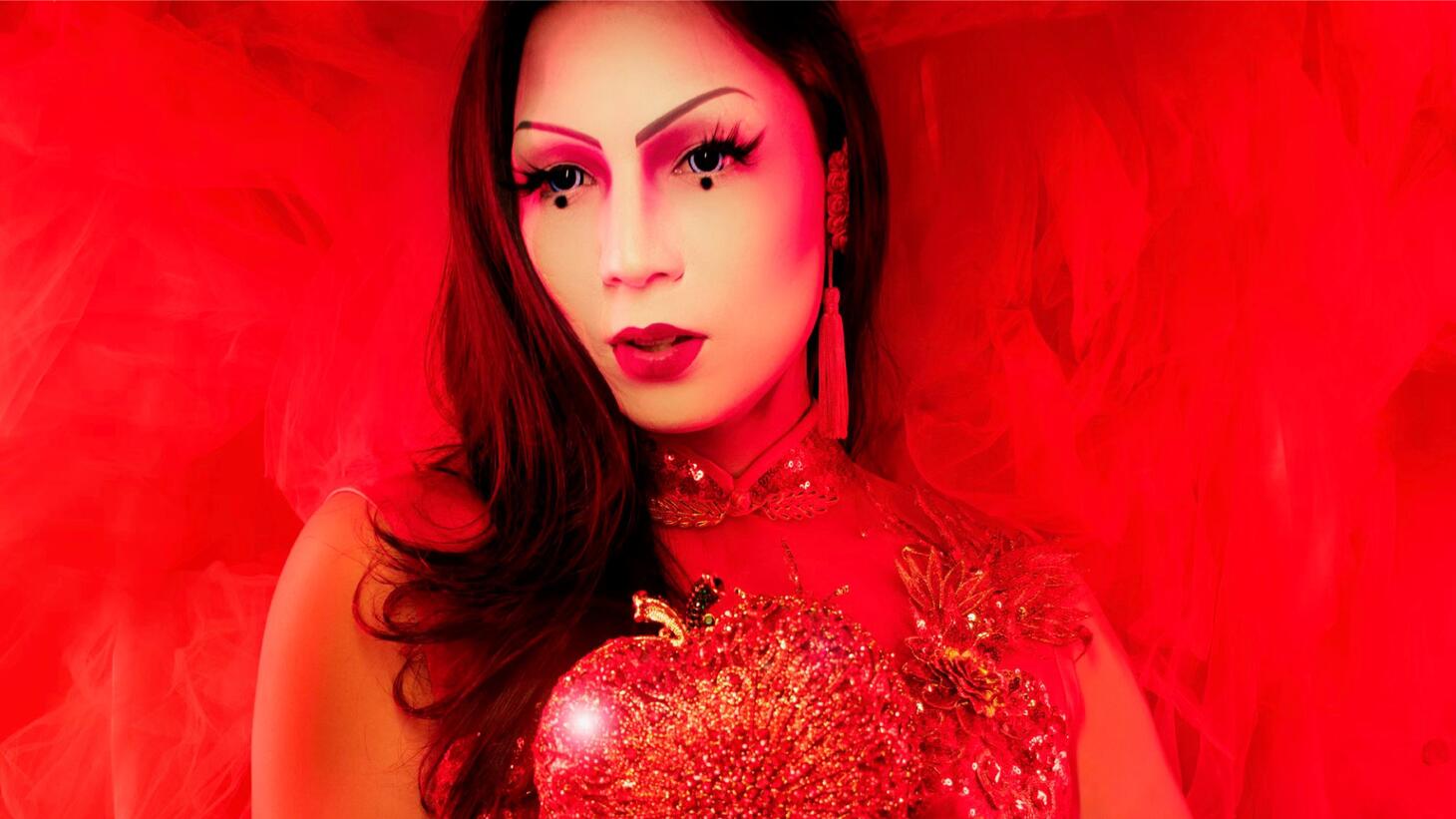 Maiden China
When it comes to what's made in China, drag's no exception. Kendell Yan (BA'15, she/they), who is non-binary and trans-femme, and an intersectional feminist drag performance artist, debuted Maiden China (she/they) in Vancouver's nightlife in 2016. This sophisticated entertainer focuses on hyphenated identity politics and androgyny, and incorporates classical Chinese opera, queer theory, resistance politics, and intimate contact performance art. Maiden finds inspiration in her ancestors, their community, powerful women and women of trans experience, music star Björk, singer-songwriter and visual artist Anohni, and conceptual and performance artist Marina Abramović. Oh, and anime villains too.
"My work has and always will be about the possibility of drag to inspire and mobilize transformation in my community, whether it be through creating a safe emotional environment for vulnerability, political action, mutual aid, or the catharsis of humour," they explain.
Maiden knows how to slay, having topped the Mx Cobalt All Star 2017 competition and being named Vancouver's Entertainer of the Year in 2018. Drag's also all relative for Maiden, who's a member of the Man Up multigender drag family, and performs as a member of the all-Asian drag family House of Rice as well as the multidisciplinary performance collective The Darlings, formed in September 2018. And as the Imperial Crown Prince of the Dogwood Monarchist Society's 48th reign, this maiden is royalty (as if there was any doubt).
Miss Cookie LaWhore, et al.
Silliness sparked the drag career of UBC Okanagan Creative Writing professor, writer, filmmaker, and performance artist Michael V. Smith (MFA'98, he/she), originally from Cornwall, Ontario. A short comedic play that Smith wrote during his undergrad, "The Unimportance of Being Ernest," got this performer "hooked on the dress immediately." Initially, Smith's queendom consisted of attending parties in drag. But then Smith co-organized a "literary smut cabaret" entitled Skank in the former Dufferin Hotel in Vancouver.
"I hosted in drag, and the microphone sort of exploded into a million twinkly lights through my body," Smith says. "I never looked back." 
Smith initially performed as Ginger Snap, "but she was a messy drunk," prompting a reincarnation as Miss Cookie LaWhore (she/her) after sobriety. Other alternate lives include Princess Gorgonzola the 13th (PG-13) and bitter divorcé Gladys Over. In addition to go-go dancing for the Vancouver queer punk band The Skinjobs, Cookie has hosted "a whole whack of different cabaret shows and fundraisers." That includes the annual cabaret Pony, which raises funds for Kelowna's Living Positive Resource Centre and was part of Smith's contributions to help queerify the city.
Unlike most queens, Cookie doesn't lip-sync, and doesn't necessarily sasha-y fierce down the runway.
"I'm more into audience-participation performance art than music or dance numbers, and I rarely am on the bill with other queens," Smith explains.
Smith is currently editing his art-house autobiographical film about gender, identity, and "how the world taught me as a young fey boy to make weapons, and I used them instead as tools, to make art." He'll be sending it to the film festival circuit this autumn. With novels, poetry collections, and a memoir under his belt, Smith is clearly one smart Cookie. 
Peach Cobblah
Dave Deveau (MFA'08, he/him) just might know a thing or two about performance.
As a playwright, he has had 12 plays produced across North America and Europe. Among them are Elbow Room Café: The Musical; Tagged; My Funny Valentine; and Ladies and Gentlemen, Boys and Girls, which won four Jessie Richardson Awards. He's also the Co-Artistic and Managing Director of Carousel Theatre for Young People. 
Although Deveau had been a long-time fan of drag, he didn't initially think it was for him. Instead he helped his husband Cameron Mackenzie become a drag star as The Queen of East Van Isolde N. Barron (she/her) by producing events for her to headline. But when Isolde occasionally took week-long breaks, Deveau began to fill in for her as Peach Cobblah (she/her), also known as the Baddest B&*#h of Vancouver or East Van's Cheapest Date. Peach began as a joke character but has since lived on for over a decade now, even appearing as Hanna the Dominatrix in the Vancouver Playhouse's La Cage Aux Folles.
As drag wives, Peach and Isolde created Tucked and Plucked: Drag Herstory Live Onstage, a live talk show about the history of drag, as well as Parents Are A Drag for the Vancouver International Children's Festival. Peach has hosted the "devilishly regretful" drag show Shame Spiral in Vancouver's West End, plus numerous, colourfully named East Van events, such as The Gay Agenda: Glitter and Skin, Eye Roll: Another F$%*ing '90s Party, and the annual Mr/Miss Cobalt Drag Competition. The world of entertainment has definitely been peachy for this queen.
Ron
"How didn't I get into drag sooner?" Erin Purghart (BFA'21, they/she) asks. After all, Purghart — who is genderqueer and a multidisciplinary artist, singer, writer, and emerging voice actor — grew up in the world of performance, including dancing (starting at the ripe old age of two) and acting. But in her second year at UBC in 2019, she was cast to play an old man in a show.
"That role sort of opened a wormhole of gender exploration, which led me to really wanting to try drag," she says. 
On the first day of her third year, she was officially performing in drag — as a sexy, bearded man and lip-syncing through Mike Posner's "Cooler Than Me." Although she finds performing in drag "nerve-wracking when it isn't just for 13 people in your program," she's determined to get on stage this summer in her drag king/thing identity as Ron (they/he). After all, her drag parent and "dear friend" Exter invited Ron to perform at UBC Drag.
All that said, Purghart has portrayed old men in several stage productions: Mr. Morse in The Hot L Baltimore at UBC, Pantalone in Axis Theatre's Juggle Me Not, and Blepharo in United Players of Vancouver's Amphitruo. It's become a niche that Purghart didn't expect. What else could be up for Ron? We'll have to wait and see, but clearly his future's so bright, he'll probably have to wear shades with that beard.
Sasha Zamolodchikova (a.k.a. Mistress Sasha)
Here's a maiden made in Japan. Painter and interdisciplinary artist Shannon Lester (MFA'13, any pronouns), who identifies as genderqueer and non-binary, got started in drag in the Land of the Rising Sun.
The Vancouver-born, Newfoundland-raised Lester had been teaching English in Osaka for many years before meeting Australian filmmaker and photographer Michael Judd. As both were interested in using drag as a platform for their art, they co-founded the drag-based performance art collective Kiss Kiss Bang Bang, launched their drag personas, and performed across Japan.
"I had always identified as both male and female so drag became a great outlet for me to express my womanhood," Lester explains.
When Lester returned to Canada to do an MFA at UBC Okanagan, Sasha Zamolodchikova (a.k.a. Mistress Sasha, she/her) continued to make appearances in Kelowna, as well as the U.S. and Japan.
As for that drag moniker, Lester tried to find "the most obscure Russian last name" possible — and yet, by coincidence, a U.S. drag queen who rose to fame on RuPaul's Drag Race, Katya Zamolodchikova, also chose that same surname. Go figure.
Although Lester also co-founded and produced the Embodiment Drag and Burlesque shows every two years for the past decade, the show became too big of a production, resulting in a back injury (remember to maintain good posture with any heavy lifting, kids).
But Sasha remains busy, holding Drag Queen Paint and Sip events in Downtown Kelowna, appearing at upcoming events like the outdoor Arts on the Avenue festival (July 28), and helping to keep the drag drive alive in the B.C. Interior.
Skim
Among the ranks of UBC students who are drag performers is Romi Kim (they/them), who is a "gender-fluid, second-generation Korean lesbian" and second-year UBC MFA student in Visual Arts. While living in Seoul in 2019, Kim saw a drag competition was being held at a bar and "decided to just go for it" — and won! Needless to say, Kim was hooked.
The drag name Skim (he/him) comes from the combination of the first letter of Kim's full first name, Saromi, and surname Kim. But it's also a reference to the Canadian graphic novel Skim by Mariko and Jillian Tamaki — while coming out, Kim felt validated seeing an Asian Canadian queer character in the story.
After pandemic restrictions lifted, Kim and Skim have been more on the go than a go-go dancer on wheels, with tons of appearances coming up. That includes hosting Drag 'N' Dim Sum at Cold Tea Restaurant (July 24), co-producing a drag show called Magic Dykes (July 27), producing an art show event at Vancouver Pride's Rainbow Lounge (at the Ocean Art Works Pavilion) on Granville Island (July 28), performing at Pride Sunset Beach with the queer Asian dance party Ricecake (July 31), and performing with the aforementioned House of Rice at the 2022 Vines Art Festival (August 6). Although still a student, this drag king can certainly teach others how to werk it!