Some of UBC's liveliest shenanigans took place on what is now a serene spot on a cliff overlooking the Pacific, where the Museum of Anthropology stands in all its dignity. Once upon a time, that spot was home to Fort Camp – student housing consisting of former army huts. It was known for its raucous, tight-knit community and its dreadful food.
UBC acquired the army huts to use as temporary housing and classrooms to accommodate the postwar boom in enrolment. As it happened, the Fort Camp huts saw 30 years of study sessions and parties. The army, followed by several generations of rowdy undergraduates, took a toll on the buildings. By 1964, the Ubyssey described Fort Camp as "squalid," with plumbing that "sometimes work[ed]." Good-humoured students turned the building's quirks into assets: One 1964 resident proudly showed Ubyssey reporters a crack in his dorm room wall, through which he delivered notes to his neighbour. "An added advantage," he said.
Indeed, the eccentricities of Fort Camp nurtured camaraderie among residents, who staged dramatic complaints about the dorms with tongues firmly in their cheeks. According to a 1964 issue of the Ubyssey, when the heating broke in a men's hut for four weeks in winter, the lads marched to a nearby women's residence "and threatened to stay there" until their heating was fixed. On being kicked out, the protesters marched around campus, singing loudly, bearing signs that said, "We Are Not Polar Bears."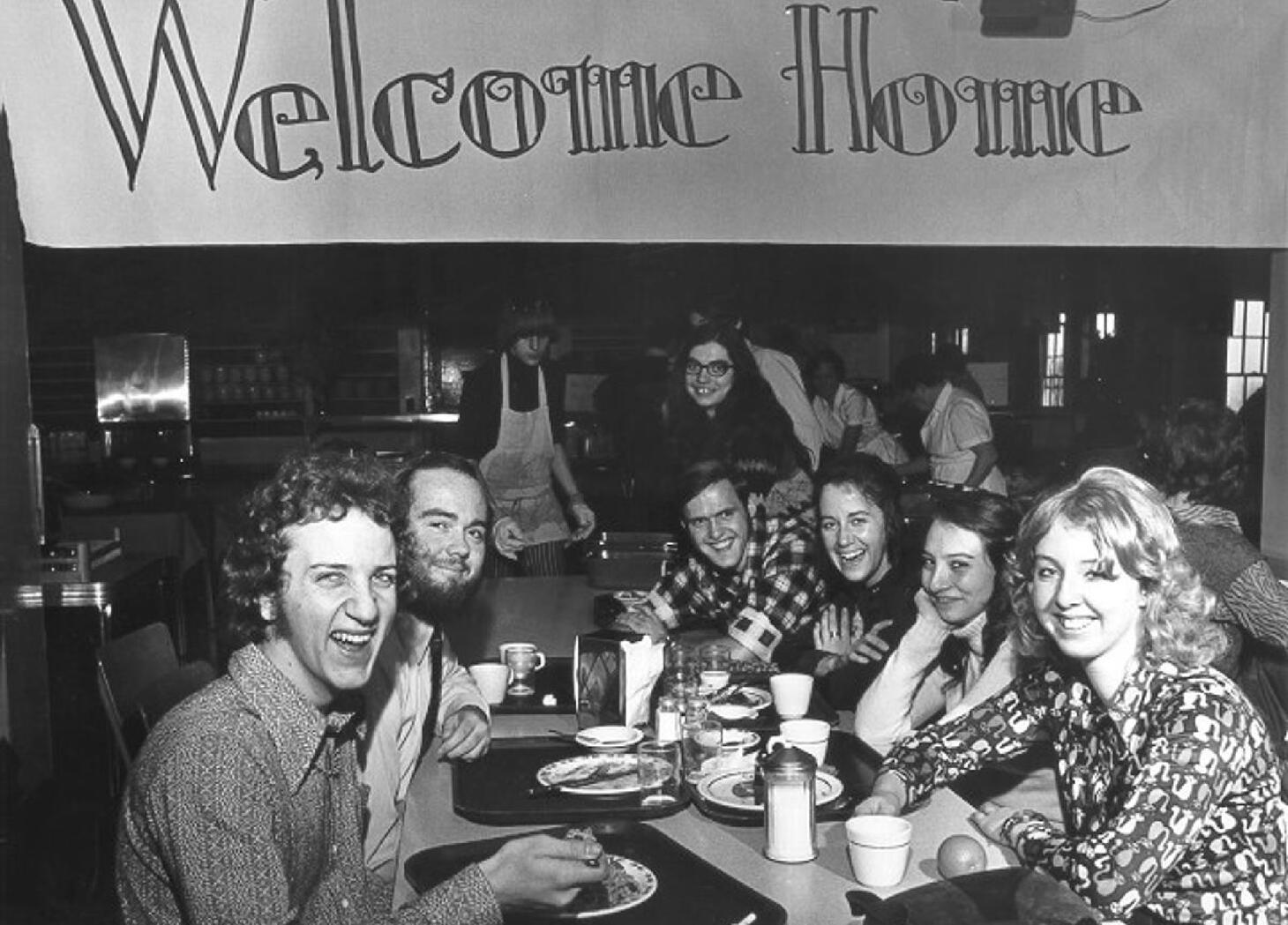 The Fort Camp plumbing-and-heating drama was nothing compared to the food, which was so awful it became a running joke. For the duration of the 1960s, the Ubyssey overflowed with Fort Campers' letters of complaint, despairing over wormy meat and half-cooked liver. Still, as one writer conceded in 1964, "Reports... that three neighbourhood dogs died of food poisoning after being fed by students with official Fort Camp food are highly exaggerated."
Despite – or because of – its bad meals and cracked walls, the boisterous Fort Camp was first and foremost a real community. The ties went beyond the parties and running jokes. In 1966, Fort Camp's residence clerk of 20 years, A.P. "Mac" Macdowell, announced his retirement. Generations of Fort Campers, past and present, banded together to launch a campaign to raise $2,000 to send Mac and his wife on vacation to Europe.
"Fort Camp has been home to me," Macdowell told the Ubyssey before his retirement. "I have always found the students to be wonderful."
A few years later, in 1972, Fort Camp was demolished – but not before a reunion of its former residents. Hopefully the food they were served was not too nostalgic.