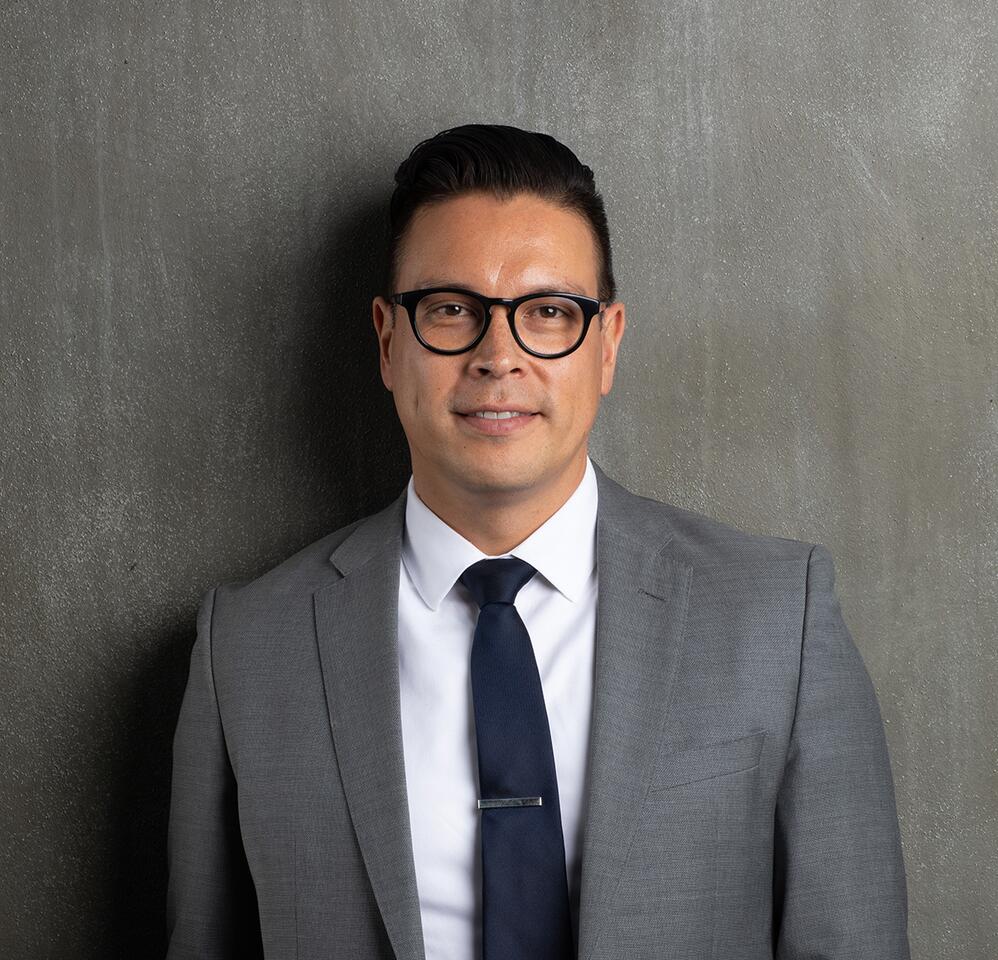 Man of the People
Chief Christopher Derickson is strengthening the foundations of self-governance 
"A good ylmixʷm [chief] is there for the people." Christopher Derickson cites a lesson from his grandfather, who was Chief of Samson Cree Nation. Now 41 and the recently elected Chief of Westbank First Nation, Derickson finds himself in a position to apply it.
His approach to leadership is at once old and new. He values tradition and is committed to strengthening communal bonds by affirming and preserving the culture and traditional knowledge of the Syilx (Okanagan) people. At the same time, he's shepherding his 850-strong community through a relatively new era of self-governance, facilitating economic development and setting his sights on a financially independent future for the Nation.
Derickson's education and career focus have prepared him for the task. He holds degrees in politics and law from UBC's Okanagan and Vancouver campuses respectively, as well as an MBA in Aboriginal leadership and business development from SFU. In 2017, he co-founded Alderhill, a company specializing in Indigenous community planning. He also lectures about Indigenous community management at SFU, the University of Arizona Native Nations Institute and at the Banff Centre.
For Chief Derickson, preserving culture begins with encouraging the growth of Nsyilxcen, the traditional language of the Syilx. As with many Indigenous languages, the number of fluent Nsyilxcen speakers has steadily declined as a result of Canadian government policies that forced assimilation and threatened to wipe out Indigenous cultures. To reverse this decline, Westbank First Nation approved and financed renovations that brought Syilx art and architecture and a brand-new language and culture room to its sənsisyustən House of Learning elementary school. Derickson wants it to become a full Nsyilxcen immersion school in the near future. 
In an increasingly uncertain world, Derickson says he places a lot of hope in the next generation, and youth engagement is another one of his priorities. He's found that one of the most effective ways of achieving this is to listen to them and involve them in efforts to protect the environment, as they tend to be its most passionate advocates. When they're not chatting with him about video games, Derickson says, they're often discussing climate change.
"The younger generation sees their relationship with the natural world very differently than our generation, than past generations have understood it," says Derickson, who has raised a son. "They're less ideological and much more open to collaborative approaches to problems." But he still sees a lot of overlap, and this opportunity for inter-generational collaboration not only strengthens cultural identity, but creates a solid foundation of leadership for the future of his community, and more broadly, for the future of Indigenous self-governance.
Westbank First Nation became self-governing just over 15 years ago, and Derickson suggests that the current system still has flaws. For example, tax revenues generated by the Westbank First Nation economy still go exclusively to the Canadian government. Derickson wants to see that change – the government has promised autonomy to Indigenous communities, and he says that financial independence has to be part of the deal. "You could argue that Westbank First Nation has built up a foundation for financial independence," he says. "It's just a matter of the federal government and the provincial governments catching up to where Westbank is at now."
Like his other priorities, Derickson's plans for further economic development ultimately serve the broader goal of strengthening the foundations of self-governance. As a chief, an entrepreneur, and a teacher, he has the influence, knowledge and resourcefulness to secure a successful and sustainable future. And the lessons he learns along the way will no doubt be passed along to the next generation of community leaders.