Samantha Bangayan (BSc'08) is the director of operations for a Vancouver-based digital marketing agency and the owner of Peru Travel With Purpose. She has been living in Huancayo on and off for the past 14 years.
 
What three words best describe Huancayo?
Traditional. Many Huancainos continue to follow a lot of the customs and traditions passed down through generations.
Growing. Since I first came to Peru in 2008, Huancayo has grown from having launched its first mall and movie theatre to now having two malls and many more modern restaurant options.
Happy. In one study, the Peruvian researcher Jorge Yamamoto determined that Huancayo is the happiest city in Peru.
How did you come to live in Huancayo?
The year I graduated, I was working at a laboratory in the UBC Department of Psychology, and my professor shared a post-graduate internship opportunity with us. The internship was headed by her professor when she was an undergrad and funded by the Canadian government's International Youth Internship Program (IYIP). I was accepted to be one of 16 interns sent around the world, and my specific position was in Huancayo to co-lead an infant stimulation project in the surrounding communities during which time I realized how much I loved the lifestyle.
What do you like most about living there?
Huancayo and its adjoining towns are known for having more festivities than there are days in the year. It's common to see parades, ceremonies, fireworks, folk dancing, and fairs with traditional dishes. A good example is Mes Morado (Purple Month), which takes place in October, when the image of Jesus is carried in a procession of people dressed in purple. Many local schools and companies participate by preparing the streets for the procession's arrival with diverse and colourful images created with flowers and dyed sawdust.
Describe your favourite neighbourhood.
San Carlos is a safe, residential neighbourhood within walking distance to both malls, the main market, and downtown. At its centre is Tupac Amaru Park, which is family-oriented with people out walking their dogs, sitting on the grass, participating in outdoor aerobics classes, and practicing folk dance choreographies. The park is surrounded by charming cafes, restaurants, ice cream bicycle vendors, and food trucks.
If you could change one thing about Huancayo, what would it be?
There could be better cultural practices when it comes to waste and garbage disposal. People are still accustomed to throwing their garbage on the streets, maybe partly because there aren't enough public waste bins.
What might surprise a visitor about Huancayo?
Huancayo is at a high altitude (~10,500 feet), but it has never snowed here. Many visitors take pills to prevent high-altitude sickness.
People raise and eat guinea pigs.
Huancayo is known for pachamanca (literally, "earth oven"), which is the traditional practice of cooking in the ground using pre-heated stones.
You'll see a wide variety of potatoes at the local market as the region produces 500 of the 3,800 varieties of potatoes that exist in Peru.
There are only two seasons (wet and dry), which are generally opposite to that of Lima. For example, when it's dry and hot in Huancayo, it's cold in Lima.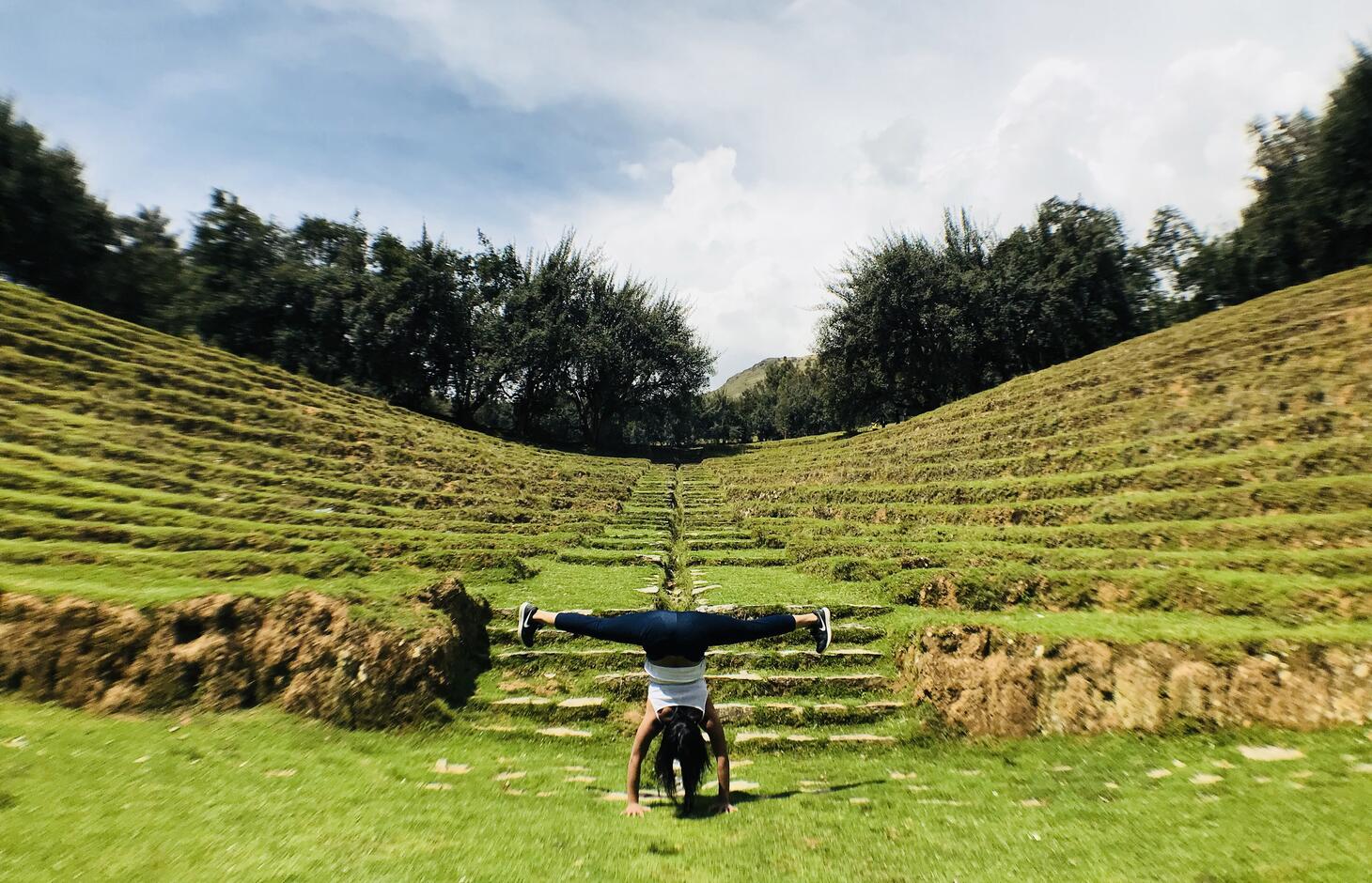 What are your favourite hidden gems or activities that only locals know about?
Santiago refers to the largest celebration in Huancayo in honour of the city's patron saint and in appreciation of the harvest, farm animals, and nature. Family members (many from abroad) hire instrumentalists, wear traditional garb, and dance through the streets or in the town plaza. Part of the festivities often includes an offering or "payment" to the earth, such as coca leaves, flowers, and liquor.
The Parque de los Mates Burilados (Carved Gourds Park) is dedicated to the art of carving Andean scenes on gourds, such as folk dances and farming.
At the Bosque Dorado (Golden Forest), you'll see agricultural terracing from the olden days.
What's the most over-rated tourist hotspot?
Parque de la Identidad Huanca (Huanca Identity Park) is a quaint park dotted with sculptures of people representative of the region, such as a historian of Andean culture, a communal leader, and Andean folkloric composers and musicians. The design of this small, enclosed park in the middle of the city was influenced by Barcelona's Parque Güell and displays various plants typical to the region, so there are picturesque spots, but there is so much more to experience in and around Huancayo that will give you a better feel for the region if you only have a short time in the area.
How easy is it to meet new people?
It's generally easy to meet new people. Huancainos don't hesitate to invite new friends to get-togethers, even if you're not family, whether it's for a birthday, wedding, baby shower, anniversary, or reunion.
What issues are particularly important to the people of Huancayo? 
City infrastructure and public works, such as the delays in renovating the main plaza
Politics and how the current president is performing
The cost of staples, such as rice and oil
What is one local custom that every visitor should know about?
It's normal to negotiate prices, especially if you buy a lot from a single vendor. Negotiating typically happens at the market, at fairs, in small shops, and with street vendors, but not at corner stores or at the malls. Specifically with street vendors, it's also customary to receive or ask for your yapa, a little bit extra of what was served.
Looking to connect with your UBC alumni community?
If you live outside our campus communities in the Lower Mainland and Central Okanagan, visit the Global Alumni Network page to see if there's an alumni ambassador or social media community where you live.
Alumni volunteers also host fun My Town Meetups in locations around the world. Check out our Meetups page to see if there's a gathering near you — or sign up to host one in your location!