Fourth-year UBC Bachelor of Commerce student Lauren Tjoe was recently crowned the Season 6 winner of hit CBC television series The Great Canadian Baking Show. Week after week, Tjoe showcased her talent, creativity, and stamina to stand out among a group of nine other amateur bakers from across the country. She wowed judges and captivated audiences with her strawberry-rhubarb rose bouquets, fantasy baklava flower tower, dark chocolate teapot, and spice cake with homemade kabocha purée. She even baked a loaf of bread in the shape of a '56 Chevy Bel-Air car.
Tjoe shares how her experience as a student at the UBC Sauder School of Business paved her path to victory on the finale of the culinary competition.
Q: Congratulations on your big win! The UBC Sauder community was cheering you on. How did your business education help you come out on top?
A: My UBC Sauder experience played a huge role in my approach to the show. We were given briefs for the Signature Bake and Showstopper challenges in advance of filming days. It was very much like how I would study for a final exam at school. I would do the preparatory work at home and create recipes in a methodical way. I am quite an analytical person and that's been elevated by going to UBC Sauder. I would first write a recipe, then do at least two practice bakes before I even got to set, and then I would practice on location as well. The Showstopper challenges are, on average, four hours long and require a lot of attention to detail, endurance, and creativity. I used certain preparation techniques and methodology during the competition that came directly from my learnings at UBC Sauder. 
Q: What skills honed at UBC Sauder played a part in your win?
A: I didn't think there would be any crossover, but there was so much crossover! Being a participant on the show required a lot of time management and organization. I made Excel spreadsheets about my baking time, ingredients, and weights and used them as much as I possibly could. The producers on the show got a kick out of my colour-coded spreadsheets.
For the Technical challenge on each episode, there's a blind recipe and we have no idea what it is going to be until the hosts introduce it. It involves an incomplete recipe and we have to rely on our own baking knowledge to produce something. My analytical skills and reading comprehension came in handy. I had to understand what the recipe was asking, but then extrapolate and read between the lines. I had to ask myself, "I know they're asking me to make a cake, but they haven't given me a temperature or a baking time, so what do I know from past experience?" It felt so similar to analyzing a business case. Case work is all about what they aren't telling you and figuring out how to remediate the problem.
My learnings from the COMM 202 course on career fundamentals also helped me on and off set. The presentation and interview skills translated onto the show and have also helped me navigate some of the press coverage afterwards. I feel like I can get my point across in a clear and concise manner. I'm able to reflect myself in a way that is true to who I am. I'm not someone else on TV, it's still me, and that has come with being more confident in public speaking.
Q: Was there a particular moment during the show where you really dug deep and relied on your learnings from UBC Sauder?
A: Week 5 was Chocolate Week and up until that point, I had not done well in the Technical challenges. They were not very fun for me. In Week 5, things changed because I actually took the time to do more careful analysis before I even started baking, rather than jumping in. I approached the Sachertorte differently and told myself, "I am going to trust my instincts but also read the recipe as much as I possibly can." Thinking critically about what I needed to do was something that kicked in during that week. I won that particular Technical challenge and it was a big turning point. I saw the talent in the Baking Tent and knew I needed to up my game.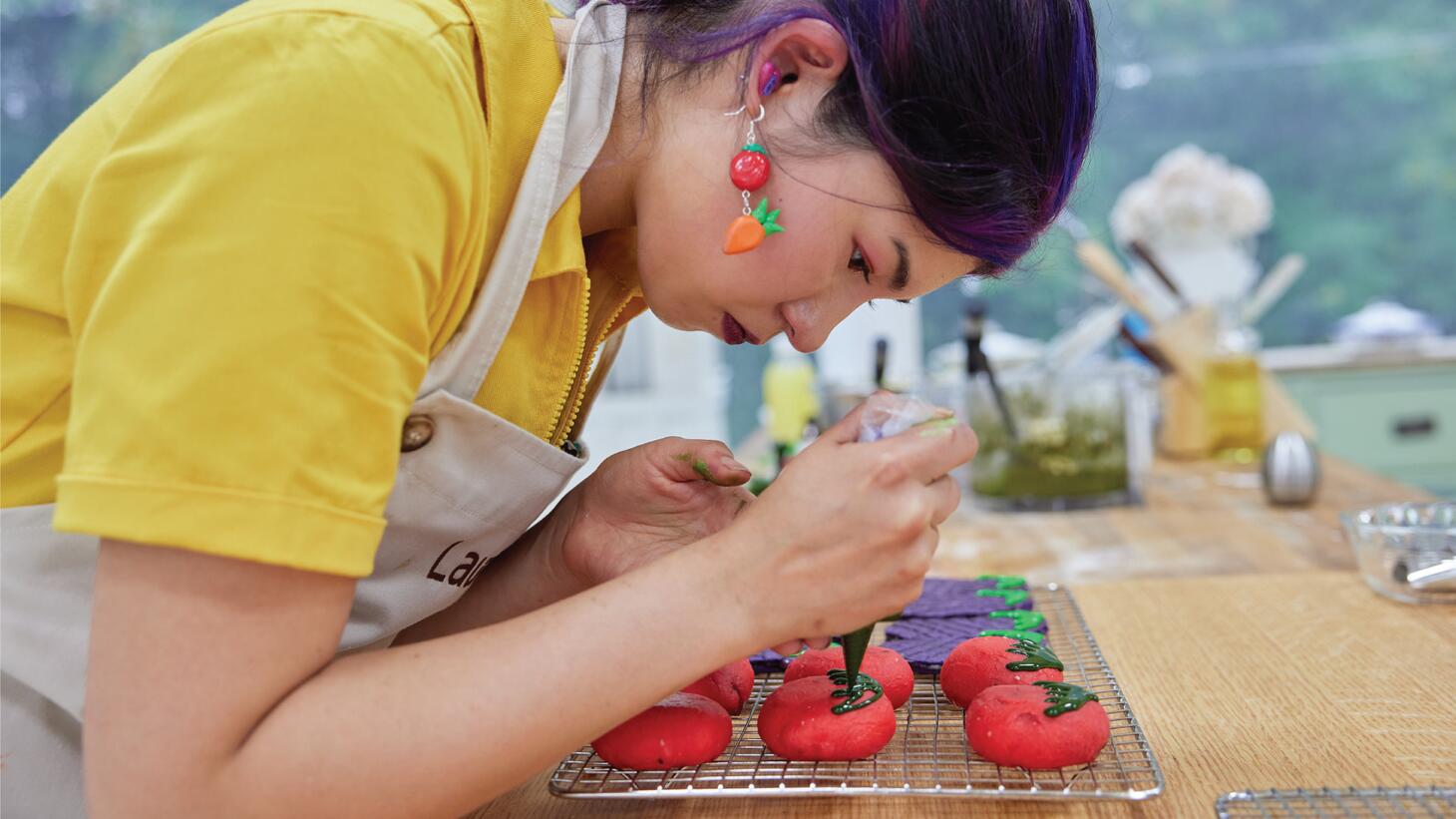 Q: Why did you decide to pursue a UBC Bachelor of Commerce? And what made you want to specialize in Finance?
A: I was drawn towards UBC Sauder because I have always been an entrepreneurial type of person. I liked that way of thinking about the world and wanted to discover how I could use my talents to do something bigger. After learning about the different areas that I could pursue, I found that finance was the best fit. I am also doing the social impact and sustainability concentration. I really enjoy the overlap between the finance industry and social initiatives. Things like impact investing and social venture capital are really interesting to me. UBC Sauder has offered great opportunities to explore that because it has those types of classes. It's been an eye-opening learning experience that I don't think a lot of schools provide.
Q: During the finale, you said that you weren't initially sure that you could win. How will this newfound confidence translate into your business career as you get closer to graduation?
A: Being on the show was mentally challenging. It was the most stress I've ever felt, on top of the physical exhaustion. Filming days were very intense and our off days were dedicated to practicing recipes. I came out of it realizing I am a lot stronger than I thought and I have a greater understanding of myself, which makes it easier to explain who I am in a job interview context. I think it's a lot easier to sell yourself if you know who you are, the values that you have, and the strengths that you bring. The show required a combination of soft skills and technical expertise. You had to be personable, empathic, and analytical. In any job scenario, you'll need to use the same skills. For me, all of those were developed in a very intense situation during the truly unique experience of being on the show.
Q: What are your immediate plans after graduation? What sort of jobs will you be applying to?
A: At this point, I'm set to finish my degree next December. I'm currently doing a co-op placement at the Canada Pension Plan in Toronto and I've really enjoyed my time here. I'm looking for jobs in similar areas, in something like corporate finance or investment portfolio management.
Q: Given your entrepreneurial bent, do you have any plans to start your own bakery one day?
A: Opening a full bakery has never been an interest of mine, but I have really been enjoying the social media side of baking. I've been creating a lot of social media content to showcase my recipes. I'm also in the process of looking at what it would take to open a micro-bakery or pop-up shop. I would curate the menu, do all the baking and marketing, and then partner with a location. For example, I've seen micro-bakeries at restaurants and even vintage clothing stores around Toronto. I would love to replicate that in Vancouver. It would be similar to opening a bakery, but with no storefront and more flexibility.
The Great Canadian Baking Show is available to stream on-demand with the free CBC Gem platform.
---
Lauren Tjoe's Holiday Recipe
Orange Chocolate Mochi Brownies 
Ingredients:
200 g sugar
350 mL milk
1 tbsp instant espresso powder (optional)
1 tsp vanilla extract or 1 vanilla pod
2 eggs
57 g melted butter
generous pinch of salt
225 g glutinous rice flour
30 g cocoa powder
100 g dark chocolate chips
zest of one orange
Steps:
1. Preheat oven to 350 F (177 C).
2. In a pan, combine sugar and milk. Heat over medium until sugar has dissolved — remove from heat.
3. Add espresso powder and vanilla to the milk.
4. In a large bowl, whisk eggs and butter together.
5. Add rice flour, cocoa powder, salt, and the milk mixture — whisk thoroughly.
6. Add the zest of an orange and dark chocolate chips to the mix — stir until the majority of the chocolate chips have melted.
7. Butter or line a 12-hole muffin tin.
8. Fill each cup with batter and bake for 45 to 55 minutes depending on how squishy you'd like your brownies to be.
9. Remove brownies from the oven. Let cool slightly before moving to a wire rack.
10. Dust with powdered sugar and serve warm.