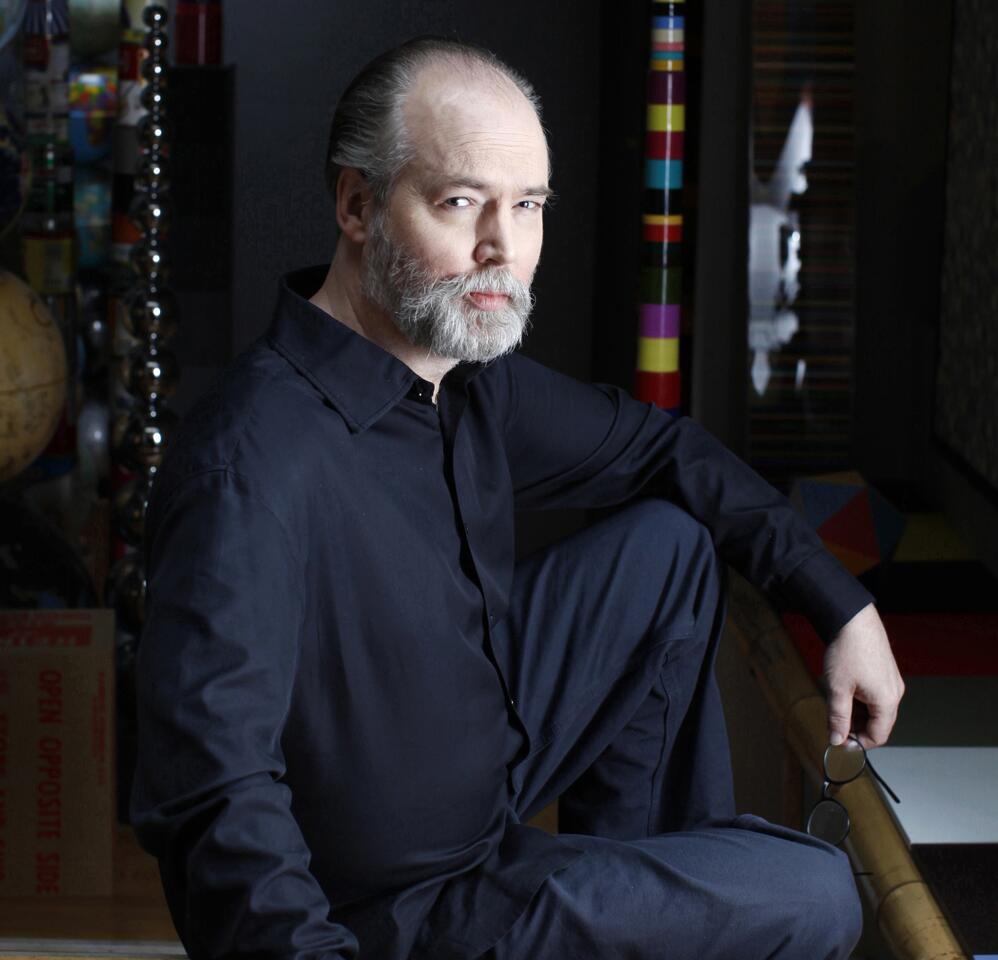 Douglas Coupland
"…the ability to experience time, our free will, and a respect for living things is all we have in this world, and how we work with this knowledge is what defines us."
Who was your childhood hero?
Andy Warhol. The first book I ever bought was a hardcover biography of Warhol in 1970, so I would have been 8 and a half. It cost $10.00 at Coles in Park Royal, and I almost fainted at the price, but I had to have it.
Describe the place you most like to spend time.
Walking in Kyoto.
What was the last thing you read?
Chuck Klosterman's Raised in Captivity.
What or who makes you laugh out loud?
Drag queens.
What's the most important lesson you ever learned?
The moment you stop meeting new people, it's all over.
What's your idea of the perfect day?
In London with my UK art posse.
What was your nickname in high school?
Coupland. In art school it was Dougall.
What is your most prized possession?
My Canadian passport.
What would be the title of your biography?
Well, That Was Interesting.
If a genie granted you one wish, what would it be?
I won't answer. Questions like this open doors that can never be closed.
What would you like your epitaph to say?
Ditto.
What item have you owned for the longest time?
What an odd question. I think it would be handmade magazines I made back in kindergarten. They had everything: features, short bits, a table of contents… and they were as good as most zines from the 1990s.
Whom do you most admire (living or dead) and why?
My parents. They did all they could, did a great job, and never complained even once.
If you could invent something, what would it be?
A Dr. Doolittle machine that allows us to speak with animals.
In which era would you most like to have lived, and why?
I always like exactly where I am. Really.
What are you afraid of?
Revealing my fears on a broadly accessible internet platform.
What is your latest purchase?
Two criminally expensive COVID tests ($780 CAD in total) just to get in and out of Los Angeles for three days of business. Scam.
Name the skill or talent you would most like to have.
Adobe Illustrator. Or a nice French accent; mine is awful.
Which three pieces of music would you take to a desert island?
This is essentially asking me what music I would like played at my funeral:
"The Lonely Bull," Herb Alpert
"Aladdin Sane," David Bowie
"Jerusalem," Herb Alpert
Which famous person (living or dead) do you think (or have you been told) you most resemble?
I don't think anybody has ever told me I resemble anyone else, and I don't know if that's good or not. Who do I think I most resemble? Believe it or not, my father (Dr. D.C.T Coupland, 1926-2016) who, from the outside had a ridiculously different life than mine, but what we both had/have in common is the shared belief that the ability to experience time, our free will, and a respect for living things is all we have in this world, and how we work with this knowledge is what defines us.
What is your pet peeve?
People who are incompetent at their jobs who block my path. I have no patience with these people. None. Zero.
What is the secret to a good life?
Try and use all your brain across the course of a given day.
Do you have a personal motto?
No.
What's the most important thing left on your bucket list?
Bucket lists are corny. Sorry.
What are your UBC highlights?
Getting my honorary degree there. I was up on the stage and watched maybe 1,000 Arts grads get their diplomas up close, but everyone was wearing robes, so all I could really see were shoes, and I was amazed at the beautiful shoes everybody chose to wear — and I mentioned it in my speech, and everyone was so happy to have their flair acknowledged. Go grads!